Hi all, I will continue on my reviews of the exhibition i had seen thus far. I must first emphasize that whatever rubbish i wrote in this blog is not representitive of the views of any organisation or country. It is what I see and what I think, as a contemporary art enthusiast, as an artist, as a filmmaker, as an individual, as a human.

P.S. pls do not be offended by my comments and ratings cos they are extremely subjective :-p

~Liao Jiekai
25th june 2005~

FOREWORD

As I begin my trip on a journey to discover the myriads of pavilions and collateral events scattered all over Venice, I am excited... with a tripod on my back, a camera on my hand, a brain on my head * if i ever have one* i set out on a jouney to the west... west side of Venice I mean...

Peggy Guggenheim Collection @ Venice ~ 5 stars

Wow, this is the first 5 star I gave. Well deserving. I paid the 10 euros entrance plus another 5 for the audio guide ( which I really regretted. So hey all, unless you are an absolute noob/amatuer in art history, don't bother getting the guide. Firstly, not all works in the collection is included in the guide, secondly, it destroys your chance to interprete and understand the art work yourself. Thirdly, it is expensive)

This place is really gorgeous, the layout is a huge contrast with all the architectures you can see in Venice. The garden outside is littered with sculptures from giacometti and henry moore. As I stroll through the minimalist displays of sculptures, mainly bronze, I went to the toilet to drink some H2O, bcos I left my bag at the front counter and dun have my bottle with me. They have some NICE toilets, more modern than our Singapore one, but our's cooler though :-p
Okay, first of all, I looked at the Jackson Pollock retrospective. Very strict museum atmosphere, but i admired at the way they structure the exhibition, SAM have much to learn... Works shown vary from the early sketches of Jackson Pollock to his later AE works. What caught my eye is this particular watercolour landscape painting, and it is not FANTASTIC at all, amateurish to be exact. I really dun see the link between this piece of work and the rest of the exhibits... I can understand why they put some other sketches inside, as there are relevance to his later works, but definitely not this watercolour painting... As I walked to the other end, I came across to his true blue drip paintings... BUT only so few of them, and my favourite piece "lavender mist" and other more famous pieces are not around... what kinda retrospective is this? but well, I must admit that they do have a comprehensive show of his earlier works, especially his sketches and dawings. At the end of the space, we can view the works of other AE artists like Robert Motherwell and Mark Rothko.
I moved on to the maon section of the guggenheim collection, WOW! Picasso, Marcel Duchamp, Max Ernst, Matisse, Magritte, more Pollock, De Chirico, Jean Arp, Joan Miro, Brancusi, and many many more. An almost complete collection of modern art from the early 1900s onwards. My favourite piece is undoubtly Rene Magritte's "Empire of light" , so tempted to buy a gigantic replica of it and bring it home to be hung in my room.
The only missing movement, the futurist is made up by an exhibition of works from another collectior, featuring artists like Boccioni... wow... and even more wow...
At 12 pm, one of the intern working in the Guggenheim gathered everyone and give an extremely good, comprehensive and detailed art history lecture on the life of Peggy Guggenheim. I learnt a lot from listening to that, and it adds plenty of meaning to being here in the Guggenheim collection itself.
Lastly went to the corner with the stone plague that says " here lies Peggy Guggenheim", I think i respect her passion for art, it can be seen in every art work in this collection.
Before leaving the place, i chatted with another intern from LA, she told me that there are like 34 interns working in the museum, this place is run entirely on interns huh? well, but i do notice something. all the interns i had seen thus far are all female, where are all the guys man???
Accademia Art Gallery ~ 3 stars
Sorry man, not my kind of exhibition. Regretted paying 6.5 Euros to see all these medieval venetian art. The paintings inside are HUGE man, a lot of them are altar paintings from various churches. And this place is really big, simply overwhelming. For fans of religious/renaissance/medieval/classical art, this is a 5 star show. But not for me, I struggle looking through all of them... leaving in like 1.5 hours.
Grace Ndinta @ Nhova Konda ~ 3 stars
I stumbled upon this gallery while searching for the Armenian Pavilion. This show is suppose to be held in conjuction with the Biennale, though it is neither a national pavilion nor a collateral event.
A british artist... video installations. Video projected on an altar, video shown on a TV placed on the floor... The run down nature of this place elevates the work making it a very powerful experience. Worth taking a look.
Armenian Pavilion ~ 3 stars
The first work that caught my eye is another video fighting for female rights... again... I almost thought that the Guerilla girls are from Armenia. Some of the video is very inaccessible to me, but I like the layout of one of the series of video peojection. The video is shown on a brick wall, playing and looping 5 videos from 2 artists. It took me a min or so into each video b4 figuring out what I am actually looking at because of the textured background. The first pavilion I came across that requires the ringing of doorbell to gain entry.
Henri Foucault ~ 4.5 stars
Wow! My first step into the pavilion and I realised that what is welcoming me is the most gorgeous, authentic, beautiful house I have seen in Venice thus far. As I ascend the seemingly ancient stairway and entered the door, I was greeted by a huge video screened at the end of the corridoor.
Drawn to the only moving image in the whole space, I went to the end and sat down to view the video. A female nude dancing? Or doing some strange ritualistic movements? There is a video effect being used here that creates ghosting ( what we call it in adobe premiere pro) hence the staggering effect of motion. Not quite understanding it, I headed from the screen back to the main hall. Panels of figure line both sides of the wall. What struck me is the lighting of the display of furnitures, the strange juxtaposition of objects, authentic ladders, lights, shelves, books in this hall. They seem to be part of the architecture, yet they seem to be what the artist intended for.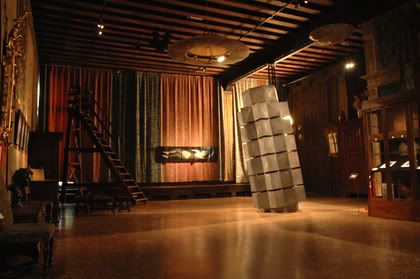 The ambience gripped me totally! This place is totally cool and authentic, it will become one of the contemporary art centers in Venice after the biennale from what I have heard. The only drawback is the unavailability of English catalogue.
Croatzia Pavilion ~ 2.5 stars
What a great way to end/spoil my day. If Marocco's Pavilion has the content but lacks the concept, this Pavilion has the context but lacks the content. I totally could not connect to any single work. Weird is the common theme. This Pavilion present art as a form of stimulant, only the right person can connect with them in the right manner. Too bad they barely leave a scratch in my brains.
Coming up next we have even more exciting reviews about the other pavilions and collateral events. Catch the Swiss pavilion - possibly the best one ever. Will it be the first ever 6 star rated pavilion? Also featuring reviews of the central asia art academy, thai pavilion, and more! Watch out for the next issue of RATINGS and REVIEWS: Venice Biennale 2005!
iakeijiekai
25 june 2005