this post is dedicated to Aun, deputy director of the visual arts team, and an "internationally acclaimed" food critic, haha...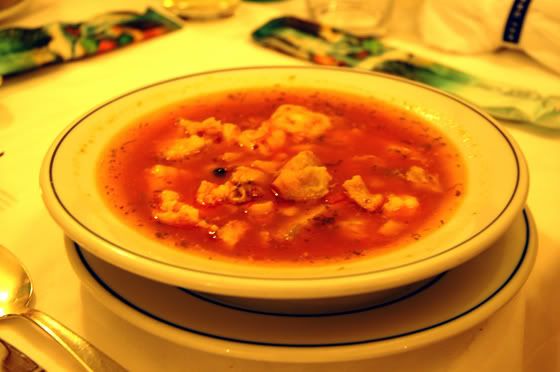 Fish Soup - the venetian style
Xing said that it is too salty
But i think that it is saltily delicious, especially when dipped with those bread that seems to be deep fried in oil, deliciously unhealthy.
Didnt have the chance to try the fish, so couldn't comment much.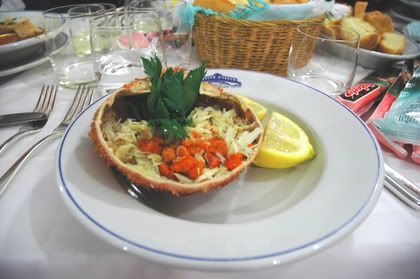 Crab meat recommended by Aun. looked at those juicy lemon and enticing white fleshes. yummy.
its a cold dish though, personally i prefer singaporean style chilli crab more, but this is good too!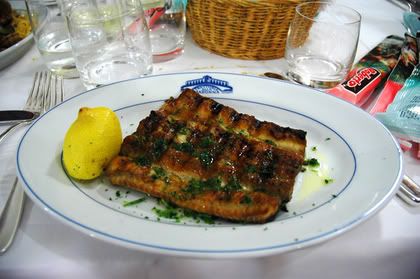 My main course - grilled eel. A bit of "chao4 da1" smell, but i guess thats because it is grilled. It is very very fresh though, sorry for squeezing the lemon first before taking this photo. I think that japan Unagi is better, but still it is good. I'm just biased towards asian food, i think...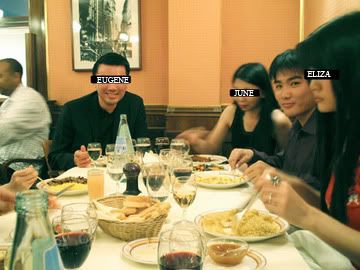 Harry's bar - a expensively luxurious meal. Very very cramped though. This photo is stolen from Aun's food blog, i must insist that i did not add those ugly black stripes over Eugene, June and Eliza's eyes. But i do add the words for easy identification.
June - my beef??? it is totally cooked?? oh gosh, look at this stiff meat, is it even edible at all? i want a refund!!
Eugene - i shall smile... and still smile
Eliza - venetian style curry! a taste from home with a twist. ( wait till u taste jiekai's curry)
Xing - AUN!! i would love to be inside this photo, i will not blame you for excluding me *grinz*
Jiekai - i shall eat silently, and... smile at the camera... and xing, u and your sarcasm.... haiz...
Kee hong and Ida has evaporated silently... Aun, how could u?
Oh, i must mention one last thing, this sinfully delicious black chocolate cake that we had for desert... it is disgustingly rich, and it is simply a must eat...
i guess we might have spent like 600 - 700 euros on this meal in total... goodness...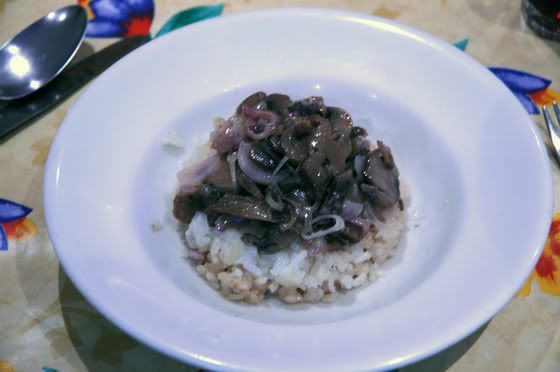 Aun, it's too bad that you had left already. you should have tried this. this is simply the best plate of rice u can find in venice. We ate at this restaurant near arsenale, and the this venetian mushroom rice is simply the best u can find in this region. mushrooms fried with sizzlying garlic and baked with white italian rice. comeon man, i shall give u the address to this restaurant.
#5 at Pirandello
Castello, 2523, 30100 Venice
I had a talk with the chef, i believe that he will be making a trip to Singapore in early august, perhaps u can catch up with him then and interview him, and probably put him on some front covers of some food magazine.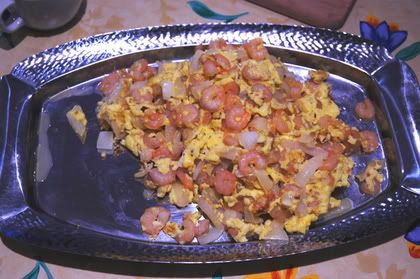 Shrimps from rialto, eggs from the italian chics fried with italian onions. what more can u ask for?
iakeijiekai
14 June, 12.30pm