happening 1
:
I was molested yesterday by this Italian woman with hairy blonde armpits. It was quite a picture, which amazed me. She thought that I was Tzay Chuen and I just played along, because she kept going on and on and asked me to visit her in Napoli, etc. She commented that I'm handsome and asked if Singaporeans are generally good looking people. Hmm ... Before she went off, she PINCHED my cheeks and kept telling me her name. Grrr ... I felt so violated! Too much!! Especially the hairy armpits! :S
happening 2
:
Some important and not-to-be-named person came to the pavilion today. He is nice and seemed pleased with the pavilion.*bingo*
happening 3
:
An old man came by and gave me 10 Euros for the catalogue and poster. It would be nice, but YES, NAC people who are reading this, I didn't take the money and repeated myself again, that the catalogues are free! :) Certo! Tutto gratis! C'est gratuit! Free! Percuma! Tidak ada kena bayaran! Mian Fei!
Alora ... highlights from yesterday's opening party of OPEN 2005!
Cocktail reception at the ***** Hungarian Palace Hotel with dressybusy people all dressed up for the Opening of the Film Festival showing Tsui Hark's,
Seven Swords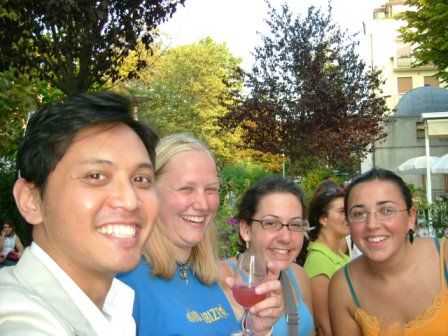 Pavilion people - Great Britain and Ireland and friends from Manchester
Me, Cleo-petra and Cutey Chris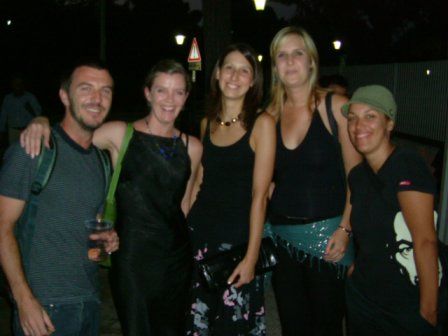 Steve (Aust Pav), Emily (NZ Pav), Belliana (Aust Pav), Simone (NZ Pav), Amal (Aust)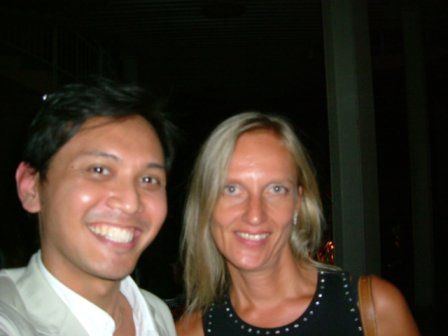 With the superwoman of the biennale - Paivi de Grandis :)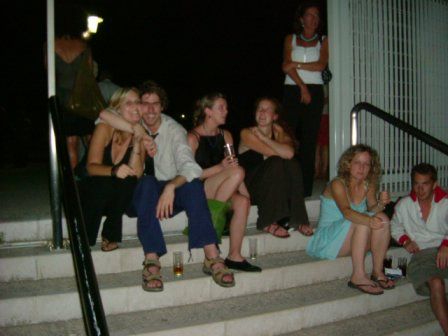 Post Blue Moon party