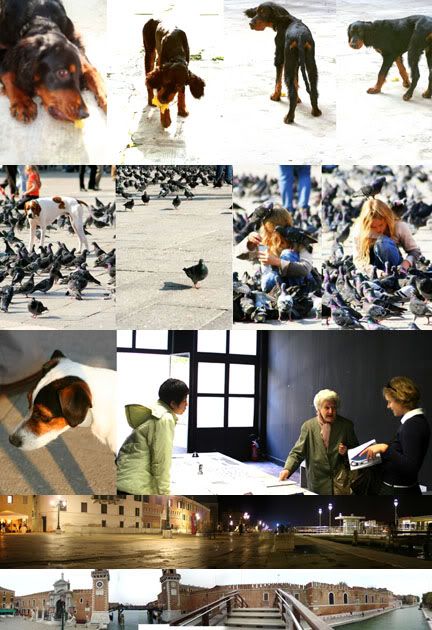 There. CC has been complaining that I have all but droppped off the surface of this earth when it comes to blogging. So here is my contribtion of the week. :)
1. The gorgeous puppy that CC blogged about earlier.
2. Pigeons at S. Marco. CC's most hated things here. haha.
3. There's CC in the pavilion, with the dear old lady who came in one morning wanting to understand the work. She spoke italian, some french, some german and minimal English. We spoke English, minimal Italian, minimal French ( CC) no german. But she wanted to know about the work so bad! She kept trying to understand, and we kept trying to explain. The other girl is german, a visitor also, trying to be our translator. I finally ran to Arsenale, one of the main sites of the Biennale and got one of the staff at the entrance to write down what i wanted to say in Italian. The old woman left.. she said she was tired.. but all smiles as she could finally sort of understand our art.
4. A stretch of my fav waterfront in the evening. This part is in front of the vaporetti stop. Its just 2 streets ( kinda) outside our home. Sigh. This will be the part of venice i miss most when i finally have to leave to go home.
5. The Arsenale bridge we have to cross to get to work and back. Isnt it Lovely!